ONE MEAT, TWO SIDES, W/ ROLL OR CORNBREAD, DESSERT & DRINK – $9
You can thank us later if you haven't visited this Prattville restaurant.  Always a strong lunch crowd, Cindy's Cafe is located at 205 S Court Street in downtown Prattville.  You know you have made it when you can't find a parking spot during lunch.  If I were to give them a slogan, it would be "Good Food, Great Price, kindof like Momma used to make…"  I mean, can we ever replace moms cooking?  The staff stays busy, but are friendly, fast, and you know you are a regular when they bring your drink order out to without asking.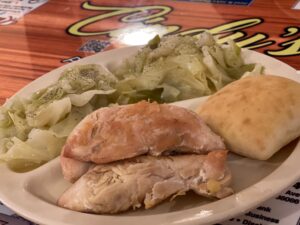 PRATTVILLE'S MEAT & TWO EXPERIENCE
We are lunch regulars and can personally vouch for the hamburger steak, country fried steak, chick tenders, salmon and wings.  Well, that is most of their menu.  There are still a few we haven't had, but being strong enough to try something new is hard to do!  We love the full lunch experience for $9 including drink and dessert.  With over 14 sides to choose from, you will be sure to find something that you love.