Kendrick Farms
1655 Hwy 31 N. Prattville, AL
Is it a farmers market, a great lunch spot, or Joanna Gaines's latest creation? It looks like all three—and more. It's a beautifully designed farmhouse-like building containing not only a market but also a café and a creamery. The market offers a selection of curated state and local goodies ranging from homemade preserves to kitchen and bath items to wooden toys to local plants. Wander over into the café for lunch or dinner where it's impossible to be disappointed by the food, the service, or the atmosphere. And if you aren't completely stuffed after your menu choice, you will then have to make a decision between ice cream and mouthwatering cobbler. I recommend getting both.
Great Lunch Spot in Prattville, AL
I've tried nearly everything on the menu at Kendrick Farms including the English Pea Salad. This local spot is semi-famous for its AMAZING Turkey Club Sandwich and with good reason. The Turkey Club, served on wheatberry bread (which is as divine as it sounds), is a symphony composed of turkey, crispy bacon, fresh apple slices, red (although the menu states more accurately "purple") onion, lettuce, warm Swiss cheese, mayonnaise, and, my personal favorite, cranberry jalapeno jam. I'm salivating as I type remembering the sweet, spicy, slightly smoky yet still fresh perfection of that item. Kendrick Farms is also well known for its impressive smoked pork and outstanding burgers.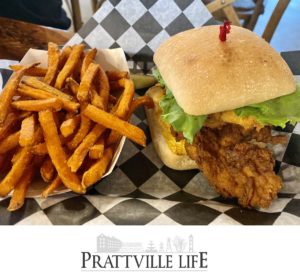 The Original (Southern) Chicken Sandwich
But until yesterday, I had not tried the Original Chicken Sandwich, mostly because I thought, mistakenly, that one chicken sandwich is pretty much like the next. But this one was not like any of the others. For starters, it's not served on a bun. It's on a ciabatta roll. And the expertly battered and fried—you can get it grilled, but who does that?—chicken portion is topped off with a fried onion ring. Yes, for real. But the thing that knocks this dish out of the park isn't the locally grown lettuce. It's the ingenious addition of a tried and true Southern delicacy: pimento cheese, warm and slathered on the bottom of the roll. That, my friends is the original southern chicken sandwich. I was so stuffed that I had to rock on the front porch for a good half hour before getting dessert.